Newtown CT Landscape Designer and Landscaper
Hello!
We design and build all types of residential landscapes; such as foundation plantings, screening plantings, poolside landscapes, perennial gardens, formal gardens, shrub borders, woodland plantings and backyard retreats.
Our garden maintenance services include edging, weeding, pruning, mulching and more.  We offer one time garden maintenance or visits through the year to keep your gardens looking their best.
People hire us because they want a landscape professional who makes their landscape beautiful, not because they want the cheapest price or the job done yesterday.  We'll create a landscape that makes your home beautiful, relaxing and stimulating all at the same time!
Most of our work is in the Upper Fairfield County, CT, in towns such as Newtown, Shelton, Trumbull, Monroe, Oxford and Southbury.
For solutions to your landscape needs please contact me today.
Thanks for visiting!
John W. Holden
Founder, Land Designs Unlimited LLC
203 257-0602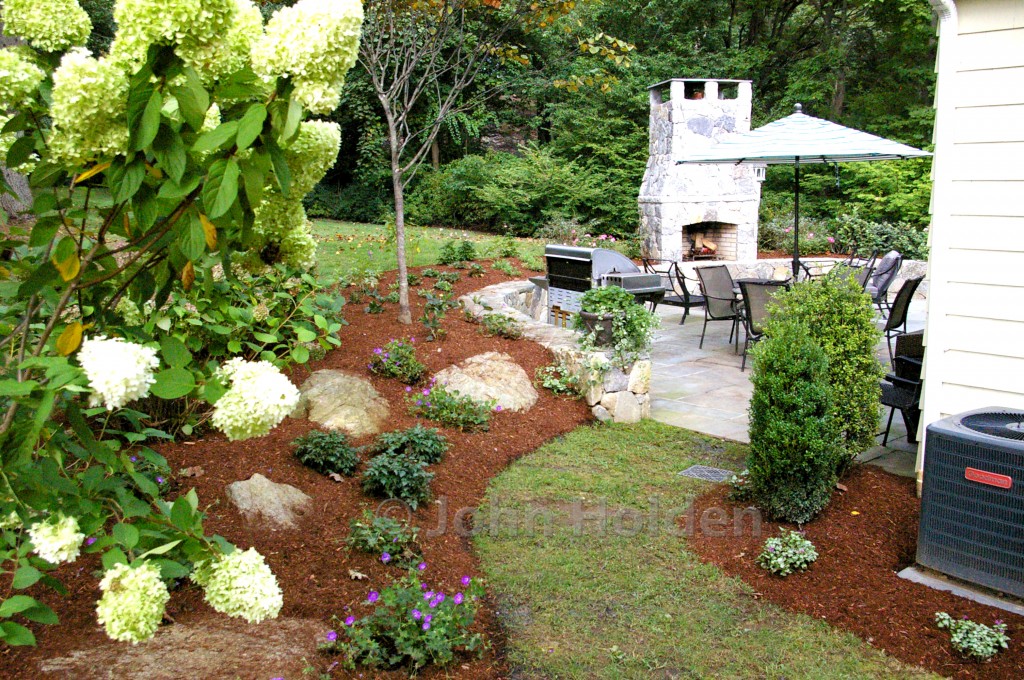 10 Reasons to Choose Land Designs Unlimited LLC
We have been in business for over 20 years.  John started Land Designs Unlimited in 1993.
Our founder, John W. Holden, earned a Degree in Ornamental Horticulture from the University of Connecticut.
We give you a detailed, written quote before work begins. Before a shovel touches the earth you will know:

The job we are doing.
When we'll complete your job.
The total investment for your project.

 We return phone calls and emails the same business day, the next business day at the latest.
 All trees and shrubs have a one year guarantee.
You know who is on your property because all of our employees wear uniforms.
Owner is on site helping to plan and carry out every job.
We are fully insured.
Landscape design and garden maintenance is our specialty.  We're not a jack of all trades and master of none.
We have specialized equipment to get the job done efficiently with minimum disturbance to your property including Nursery Jaws, a Toro Dingo TX425, Bobcat Skid Steer Loader, and an International 4700 Dump Truck.
A Tip for Selecting a Landscape Designer
How can you tell whether a landscape designer or landscaper knows what they are doing?
Ask one simple question, "Why?"
When discussing your design ask, "Why?"  When discussing plant selections ask, "Why?"  When discussing the type of mulch to use ask, "Why?"  Asking why repeatedly gets you a lot of information.
Do the answers to your questions come naturally and make sense?  Does your prospective designer welcome a chance to discuss your project with you or do they seem put off?
In the video below I walk you through a modest landscape we installed in Trumbull, CT.
The point of this video is not to show off the landscape, I could show you plenty of fancier designs.  This video shows you how I will design your landscape.
Most of our landscape design and landscaping work is in the upper Fairfield County, Connecticut (CT) towns of Newtown, Trumbull, Shelton, Monroe, Oxford and Southbury.  We travel to all of Fairfield, Litchfield, and New Haven, Connecticut, Counties for landscape design services.